A team effort
The restoration of the XLCR has been a true community project. Lead by Mr Warren Bridge (Marine Faculty Co-ordinator), the refit commenced in December 2004.
Over the ensuing 4 years and 8 months, a great many of the College's trade students worked alongside a loyal team of dedicated volunteers coordinated by Mr Sandy Wilkinson, Project Manager.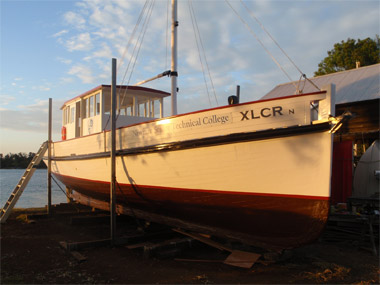 This band of retired men, each an expert in his own trade, willingly gave of their time to pass on valuable skills to a new generation of tradesmen. The volunteers listed below applied their expertise to the work necessary to bring the XLCR back into service with commitment and passion.
Sandy Wilkinson
Jim Meldrum
Reg Angel
Ted Purcell
Bob Lineham
Bob Garner
Ron Bridge
John Drewitt
Project Sponsors